About Fluoride Treatments
There are people who don't maintain a regular mouth care routine and this can trigger frequent disease and dental cavities. To aid growing or weakened teeth, a concentrated fluoride dose may be administered at DentalWorks - Easton by our dentists in Columbus, OH to fortify the enamel. Fluoride is a mineral that is frequently added to municipal water systems. In addition, it is also in typical dental products like toothpaste in small doses to build up the enamel. A professional fluoride treatment at DentalWorks - Easton uses a safe, but concentrated dose of fluoride to shield the teeth against infection. Fluoride treatments can be applied in several forms (gel, foam, varnish) with two different choices of fluoride. This can be neutral sodium fluoride for individuals who have dry mouth and dental crowns, bridges, or dentures or acidulated phosphate fluoride for strong teeth.
Reviews
"The absolute best dentist office I have ever been to. I went in with a lot of anxiety and Dr. Tamimi and his staff were very comforting. If you are thinking about getting crowns for cosmetic or any other reason I highly recommend this office, they are very professional and informative and I LOVE MY TEETH!"
- K.M. /
Google /
Nov 13, 2017
"My family and I love the team at this Dental Works location. Most of them are the same team that used to help us at Sears. We love that they know who we are and are flexible with the schedule as we have a big family. They're very professional and friendly."
- M.B. /
Google /
Nov 13, 2017
"I always have a great experience at Dental Works. I trust the information I'm told and the care I'm receving. The staff care about my life and ask me about life events and things I may have mentioned in my last visit. I highly recommend this location of dental works."
- M.F. /
Google /
Nov 13, 2017
"Several years ago, I had a health issue come up that required all my teeth to needing to be pulled. Dr. Wilson did a wonderful job of it. The whole staff was very supportive. I was not able to get dentures tight away. I have recently started the process to get my dentures. Once again Dr. T and his staff are very supportive and helpful. I would recommend them with an A+ or a 10. The office is very clean and modern."
- Google User /
Google /
Nov 10, 2017
"I had my wisdom tooth pulled today, and it's now 9 hours later and I'm in zero pain! Dr. T is amazing at what he does, extremely nice & tales excellent care of his patients. I will definitely never go anywhere else! I highly recommend him! Also the girls there are very nice as well! It's an amazing place overall! ????"
- Google User /
Google /
Nov 10, 2017
Previous
Next
Fluoride treatments are usually given bi-annually immediately after the patient's dental cleaning or as often as our dentists advise. The clean teeth are dried to stop lowering the amount of the fluoride, then the treatment is delivered to the patient as a paint-on varnish, gel, or foam that is allowed to penetrate for several minutes. To make fluoride treatments less unpleasant, our dentists will generally add a flavor chosen by the patient. Once the fluoride treatment is done, patients should be sure to spit all fluoride out of their mouth to stop negative effects after the procedure.
To make sure the treatment totally saturates the dental enamel, patients should not smoke, drink, or eat for at least a half hour after their fluoride appointment. Drinking any of the fluoride may produce mild upset stomach, but this should not last more than one day. While fluoride can be problematic in substantial concentrations, our dentists are cautious to give each adult or child a calculated dose of fluoride during their professional fluoride treatment at DentalWorks - Easton.
In-office fluoride treatments are considered a cautionary treatment and are most often paid by the patient's insurance for patients who are under 16 years old bi-annually as their teeth are developing. Insurance coverage for an older patient who gets a in-office fluoride service fluctuates, so DentalWorks - Easton will verify the patient's policy benefits and determine their amount of the bill. For patients who don't have dental insurance coverage, DentalWorks - Easton offers payment options and financing plans.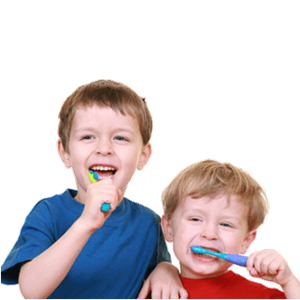 To aid children and teen's vulnerable teeth or adults who frequently get cavities, a professional fluoride treatment preceding a dental cleaning at DentalWorks - Easton can strengthen the enamel. Ask our dentists about the advantages of fluoride treatments in DentalWorks - Easton's Columbus, OH office and prescription fluoride treatments for home use. This will help to remineralize the teeth and reduce the chance of infections and cavities for better mouth health.
Related Procedures